It's baby blanket time again! One of my dear friends from college is pregnant. She's had several miscarriages, so we're all extra excited about this rainbow baby.
I chose Lion Brand Feels Like Butta yarn because a) it feels amazing and b) I could make a whole blanket with one skein. It's not quite as long as I'd like (I prefer baby blankets to be square), but the garter ridges allow a good deal of stretch. It'll be the perfect size for tucking into a car seat or for the little one to carry around as she grows.
I like the simple stripes made by the garter ridges, and I'm always a fan of patterns that multitask well. (Meaning I can knit them while reading/watching movies/chatting with friends and I don't have to worry about forgetting where I am in the stitch pattern.) It's a really quick and easy beginner pattern, perfect for anyone who knows how to knit and purl.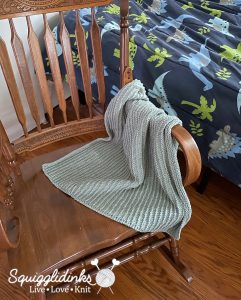 Garter Ridge Baby Blanket
Needle: US size 8 (5mm), or size needed to obtain gauge.
Yarns used: Lion Brand Feels Like Butta (medium 4; 100% polyester; 590 yards/275 grams), 1 skein of Sage.
Yardage: 590 yards (540 m).
Gauge: 4 stitches per inch in Garter Ridge stitch pattern.
Final Measurements: 31 inches (78.75 cm) wide by 23 inches (58.5 cm) long.
Stitch Abbreviations:
k = knit
p = purl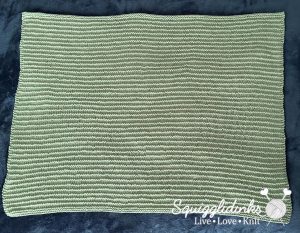 Pattern:
Set up:
Cast on 130 sts.
Knit 4 rows.
Garter Ridges:
Row 1: knit.
Row 2: k2, p to last 2 sts, k2.
Row 3: knit.
Row 4: knit.
Repeat these 4 rows 42 more times or until piece measures about 23 inches (58.5 cm) from cast on edge.
Finishing:
Knit 2 rows.
Bind off. Sew all ends under.