Author's note: I actually wrote this post months ago, so this is February or March Eliza speaking, rather than November Eliza. I've since moved my knitting focus to a larger, ongoing project.
I've probably written in a previous post about how I almost never knit the same thing twice. I get bored too easily, and knitting shouldn't be boring. And yet, for the past month or more, all I've wanted to knit are hats. Specifically these ribbed hats. The pattern is so easy I don't even have to think about it anymore, and I can work on them anytime, anywhere. (So far the most unexpected has been at a 10 year old's bowling birthday party, but most of the work has been done on my couch watching Christmas movies and Enola Holmes.)
I designed this simple pattern with the goal of a basic kids hat that would fit any age child and would be good for donating to various charities. Hats have been my on-the-go project of choice for years because they're small and portable, and with both of my boys playing baseball and soccer this past summer, I wanted something easy on my needles that could do someone good. It also seemed like a great way to use up stash yarn.
Suffice it to say, I love the way it turned out. The ribbing gives it so much stretch, the worsted weight acrylic yarn is easy-care (machine washable and dryable are a must for kids and charity projects), and it's such an easy, mindless project that can go anywhere.
I wasn't expecting to binge-knit them, but I'm not sorry about it. There's a great local organization that supports foster and adoptive families, and I'm intending to donate the hats I've made so that kids from hard places can have something warm, cozy, and handmade with love. Once I used up all the bright colors from my stash, I ended up buying more. I'll ride this binge-knitting wave until I can't look at another hat, and then I'm sure I'll come back to it some other time (next soccer season, maybe).
If you love knitting hats for charity or for yourself or the people you love, give this pattern a try! Who will you knit one for? Tell me below in the comments, or send me an email!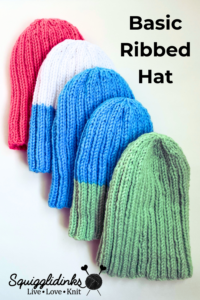 Pattern notes: I used stash yarn for this project. It works with any worsted weight yarn. Yarn brand and yardages are guesses and approximations. (One skein of Loops and Threads Impeccable will make about 2.5 child-sized hats.)
Needles: US size 8 (5mm), 9" circular, or size needed to obtain gauge; US size 8 (5mm), set of 4 double pointed needles (optional), or size needed to obtain gauge.
Yarns used: Loops and Threads Impeccable (medium (4); 100% acrylic; 285 yards/127.5 grams), 1 skein of any color.
Yardage: 100-150 yards.
Gauge: 4 sts per inch (1.57 sts per cm).
Other Notions: 1 stitch marker.
Final Measurements: Pattern is written for Child (Adult) head circumferences 20" (22") or 51cm (56cm).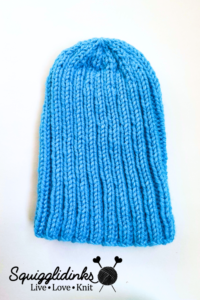 Pattern:
Cast on 80 (88) stitches. Join into a round, being careful not to twist your stitches. Place marker at start of round.
Next 35 (40) rounds: p2, k2 to end.
Decreases:
Round 1: *p2, k2, p1, p2tog, k1, rep from * to end.
Round 2: *p2, k2, p1, k2, rep from * to end.
Round 3: *p1, k2tog, k1, p1, k2, rep from * to end.
Round 4: *p1, k2, rep from * to end.
Round 5: *p1, k2, k2tog, k1, rep from * to end.
Round 6: *p1, k4, rep from * to end.
Round 7: *p1, k1, k2tog, k1, rep from * to end.
Round 8: *p1, k3, rep from * to end.
Round 9: *p1, k2tog, k1, rep from * to end.
Round 10: *p1, k2, rep from * to end.
Round 11: *k2tog, k1, rep from * to end.
Round 12: k1, *k2tog, rep to last st, k1.
Cut yarn 6 inches from last stitch, thread through remaining stitches. Sew all ends under to finish.