You may know this already, but I'm a bit of a Potterhead. I love the Harry Potter books, and whenever I reread them I remember what a brilliant writer Rowling is. I've shared Hogwarts house-themed charity blocks and a Harry Potter pattern roundup. And don't even ask about our LEGO Hogwarts castle.
A while ago I rewatched the Prisoner of Azkaban movie. (By now you can guess: the only surprising thing about that is me getting to watch my choice of movie instead of a Disney animation, which, for the record, I also enjoy. The boys must have been in bed.) When it came to the scene in Hogsmeade when the invisible Harry throws snowballs at Malfoy, I noticed something I hadn't noticed before: Hermione's hat. It was a cute blend of cables and bobbles, and I immediately decided I had to replicate it. All I had to work from were a couple of tiny screen shots (this one is the clearest):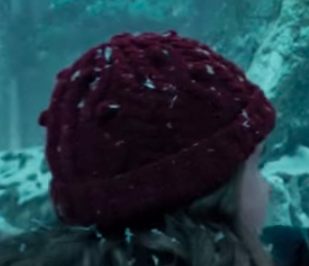 For my first attempt, I used worsted weight. I had a dark purple-red in my stash that was "close enough" to the maroon she was wearing. The hat I made was nice, but it wasn't right, and I wasn't satisfied.
Enter the journey of yarn shopping and swatching and buying new needles in the right size and swatching a lot more (and I mean a LOT). I ended up using Loops & Threads Joy DK from Michaels. The whole hat took less than 1 skein, or about 200 yards/183 meters. Joy DK is an easy-care acrylic, and it's so soft (I pick up a ball every time I go to Michaels, just to feel it).
Because of the stretchiness of the cables, this hat is one-size-fits-most. It'll fit loosely on a child/teen-sized head (about 20" or 51 cm), but it will also stretch to fit a large adult head (about 24" or 61 cm, and I know this because I made my husband try it on).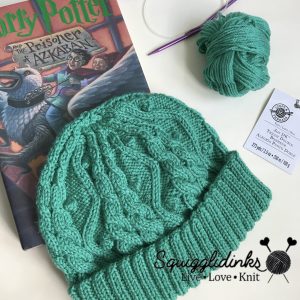 The cables are fun but straightforward, designed to "shrink" as they go toward the top of the hat, and the bobbles are really easy once you get through the first one. (You can find a helpful video tutorial here. The first way she demonstrates is the method I used, except that she purls and knits an extra two rows into the bobble.) The ribbed brim is designed to fold up. (If you have a smaller head or prefer a tighter brim, go down a needle size. If you like it loose, stick with the US Size 6 [4 mm] needles called for in the pattern.) I used the German Twisted Cast-on for the brim because I can't stand it when the edge of the ribbing doesn't stretch with the rest, but you can use a different stretchy cast-on if you prefer.
I'm so grateful to all 20+ of my amazing testers. Half followed the written directions and half followed the chart (the PDF includes both), and their feedback was great. Besides suggestions that helped me improve the pattern, here's some of what they said:
"I enjoyed knitting it and I'm almost sorry that I finished it."
"Fun and rewarding."
"It's a delightful knit…. I'll probably be making at least two more of these hats for my granddaughters."
"Lovely pattern, easy to follow, well written!"
"Simple and clear pattern. Keeps one engaged to the very end."
What color will you use? Will you make yours maroon/red like Hermione's, or will you go your own way?