I'm so excited to feature the amazing Toni, the crochet genius from TL Yarn Crafts. She's one of the few crochet designers who also designs in Tunisian crochet (she has tutorials as well), which you may know I've been dying to try. (It was one of my long-term goals last year; it's on my short-term goal list this year. Watch for some Tunisian posts in the next few months!) Toni is so sweet and smart, and besides the patterns after the interview, you should also check out the temperature blanket she's working on over on Instagram (which she's doing in Tunisian crochet, btw, if you want to see what all the fuss is about)!
1. When/how did you learn to crochet?
My first experience with crochet came when I was 13 years old. I was home, bored during summer break and had been annoying my mother for days. When she couldn't take it anymore, she handed me some crochet, which turned out to be a granny square. She showed me how to go round and round in circles and told me to keep going until the yarn ran out. I did, and that granny square turned into a giant, ugly camouflage blanket. I was so proud of myself! I played around with crochet for the rest of that summer but didn't make much more through my teens and college years. I picked it back up shortly after I got married and I haven't looked back since!
2. How did you get into designing?
A couple of years into my maker business, I was on the hunt for the perfect slouchy beanie. I had a long list of requirements and couldn't find a pattern that had the perfect slouch, brim, texture, and pom pom that I was looking for. I took a stab at making it myself and the Mega Pom Beanie was born. From that moment, I was hooked on designing patterns. Designing something from scratch is a welcome challenge for me and I love trying out different yarns, colors, and techniques.
3. What about the craft do you find most rewarding?
The most rewarding part about what I do is seeing how the vision in my head plays out in real life. Not everything I design is a winner. Some projects have never seen the light of day for a good reason. But I love the process of trying to get it right. And when I do, it makes me so happy and it encourages me to keep going. I love to learn new things about crochet through books and online research. When I put those techniques into practice, I get excited to see how it'll all turn out, regardless of whether it's good or bad.
4. Are there any aspects of yarn-crafting that you avoid?
I can't say there's anything I avoid, but there are a lot of techniques I haven't tried yet. Soon, I'd love to try filet crochet, more colorwork, and I'd like to play more with adding borders to my work.
5. Is there one crocheting/designing tip someone has given you that has stuck with you?
Listen to your body. Crochet is a very sedentary activity but it can be hard on your hands, wrists, and arms. When I first got back into crocheting, I was having a lot of back pain and tenderness in my wrists. I talked to a crocheter friend of mine who gave me a lot of advice about how to stay healthy while I crochet (take breaks, stretch, stay hydrated, etc.). But what stuck out the most is that I need to listen to my body while I'm crocheting. I love sitting for hours and working on a project. But I have to be aware of when I get hungry, when I need to stretch my legs, and when I need to take better care of myself. Self-care has become a core value of my business and my brand. I now know how important it is to make good, healthy choices when crafting.
6. What skill would you still like to learn?
I'd really, really, REALLY like to get better at knitting. I know the basics, but I want to expand on those skills and get much faster. There are so many gorgeous knitting patterns out there that I want to try. Just for selfish projects. But maybe for designing someday.
7. What/who is your greatest source of inspiration?
I am most inspired by yarn. I feel so fortunate to be a designer in an age where there are so many yarns to choose from. Every fiber, color, and weight is at my fingertips. I usually will let the yarn tell me what it wants to become. But I also get inspired by some of my favorite clothing and home stores like West Elm and Anthropologie. I also love looking up color inspiration on Instagram and Pinterest.
8. If you could have a yarn superpower, what would it be? (Sewing in ends with the snap of your fingers, all your math always works out perfectly…you name it!)
My yarn superpower would be the ability to deconstruct an idea and know exactly how to make a crochet design out of it. I get really inspired by fashion shows and fashion magazines. I'd love to be able to convert some of the concepts from the runway into my crochet designs.
Check out some of Toni's amazing designs: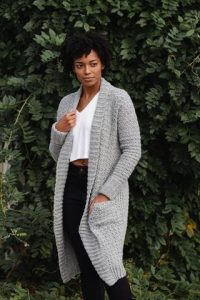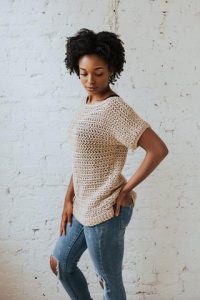 Upstate Scarf (Tunisian Crochet)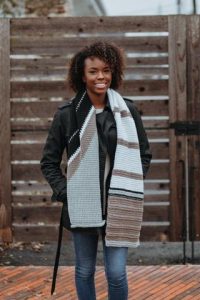 Disclaimer: Some patterns from designers I feature will be free, others will be paid. I am not affiliated with them nor do I make any commission if you purchase a pattern. My goal is simply to help you find your best next pattern while supporting other designers in this maker community.