Can you believe that the 20th anniversary of the release of the Harry Potter books was just a few weeks ago?
I feel old.
I remember waiting in the checkout line at a bookstore with my grandma (yes, an actual in-person bookstore; they still existed then), and seeing a display of the first two books. I'd never heard of Harry Potter, so I read the book jackets. They hooked me right away, and I took them out of my local library as soon as I could. It's been love ever since.

And like so many others, I've dreamed of being in Gryffindor, hanging out in the house common room, watching Fred and George's antics. I love the lion rampant and the red and gold.
Of course, personality-wise, I'm a Ravenclaw. I love (love love love) books. I wear a lot more blue than red, and I never wear gold.
But Gryffindor will always hold a special place in my heart. I had a lot of fun knitting this next Hogwarts house charity block. I wanted to model it after the red-with-gold-stripes pattern on their scarves in the movies, but halfway through I realized that I had a lot more gold than red, and I wasn't sure I had enough to finish the block the way I was going. So I switched to gold-with-red-stripes for the second half.
Here's how to do it:
You'll need:
Size 8 needles
Worsted weight acrylic yarn in red and gold (The gold yarn I used was actually much thinner, so I ended up holding it triple to make it match the red.)
Gauge: 4-4.25 stitches per inch
The whole block is knit in stockinette stitch (knit all odd rows, purl all even rows). Cast on 28-30 stitches in Red. (I used 28 because my yarn was a thicker worsted weight with a gauge closer to 4 stitches/inch. If you're using a thinner worsted weight, with a gauge closer to 4.25 stitches/inch, you'll want to use 30.)
Here is the color pattern I used:
6 rows—Red
2 rows—Gold
2 rows—Red
2 rows—Gold
4 rows—Red
2 rows—Gold
2 rows—Red
2 rows—Gold
6 rows—Red
(This is halfway.)
6 rows—Gold
2 rows—Red
2 rows—Gold
2 rows—Red
4 rows—Gold
2 rows—Red
2 rows—Gold
2 rows—Red
6 rows—Gold
Bind off with the gold in a knit row.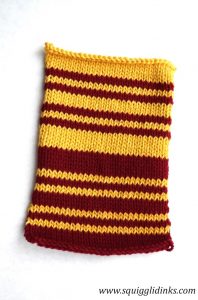 How did you discover Harry? What house do you identify with? Tell me in the comments—I'd love to hear!