Munchkin loves Winnie the Pooh.
This is convenient, because I had two skeins of yellow yarn leftover from a scrapped Bob the Builder "hard hat" that I gave up on making for Little Bear last year. (He got a monster hat instead.) Both boys needed new winter hats this year, and it's become a tradition to make them as Christmas gifts. (That is, if three hats for Little Bear and one for Munchkin can count as a tradition.)
So Munchkin got a Pooh hat, modeled on a combo of the baby bear hat that I made for my new little nephew last year and the Pooh costume that the boys loved when they were 18 months old. The eyebrows came out looking a little funky–they're sewn on at the end, so if you prefer the hat without them, you can leave them off.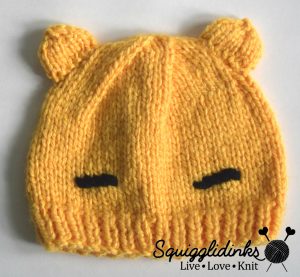 I knit the hat on straight needles and then seamed it up at the end. I don't really have a preference between knitting hats on straight needles or circular needles, but this particular choice was made for practical reasons: I didn't have circular needles in the right size and I didn't want to go buy a pair. (If you want me to add instructions for circular needles, please let me know in the comments!)
Silly Old Bear Hat
Needle: US size 10.5 (6.5 mm), straight needles; US size 10.5 (6.5 mm) double pointed needles.
Yarns used: Loops and Threads Charisma (Bulky (5); 100% acrylic; 109 yards/100 grams), 1 skein of Yellow.
Black scrap yarn (I used about 2-3 yards of Lion Brand Wool Ease Thick and Quick) for eyebrows.
Yardage: 109
Gauge: 13 stitches and 18.5 rows = 4 inches.
Other Notions: yarn needle for finishing.
Final Measurements: Pattern is written for Infant (16"), Toddler (18.5"), and Child/Teen (20") sizes. Sizes will be written Infant (Toddler, Child/Teen) in the pattern.
Stitch Abbreviations:
k=knit
p=purl
k2tog=knit two together
p2tog=purl two together
st st=stockinette stitch: knit all odd rows and purl all even rows
Pattern:
Hat:
Using straight needles, cast on 54 (60, 66) stitches.
First 5 rows: k1, p1, repeat to end.
Continue in st st until hat measures 3.5 (4, 4) inches from cast on edge.
Decreases:
Row 1: k7 (8, 9), k2tog, repeat to end.
Row 2: purl.
Row 3: k6 (7, 8), k2tog, repeat to end.
Row 4: purl.
Row 5: k5 (6, 7), k2tog, repeat to end.
Row 6: purl.
Row 7 (Skip this row for Infant size—Toddler and Child/Teen ONLY): k(5, 6), k2tog, repeat to end.
Row 8 (Skip this row for Infant size—Toddler and Child/Teen ONLY): purl.
Row 9 (all sizes): k4 (4, 5), k2tog, repeat to end.
Row 10: p2tog, p3 (3, 4), repeat to end.
Row 11: k2 (2, 3), k2tog, repeat to end.
Row 12: p2tog, p1 (1, 2), repeat to end.
Infant and Toddler, Row 13: k2tog, repeat to end.
Child/Teen, Row 13: k1, k2tog, repeat to end.
Child/Teen, Row 14: p2tog, repeat to end.
Cut yarn so that you have a 20" tail. Thread through the remaining 6 stitches and pull tight. Use the tail to sew up the side seam of the hat.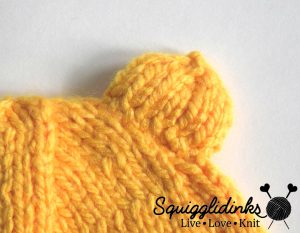 Ears (Make 2):
Using the double pointed needles, cast on 12 sts. (It's easiest if you use the long-tail method, because you'll use the tail to attach the ears to the hat.) Join into a circle, being careful not to twist your stitches.
First 4 rounds: knit all sts.
Round 5: k2tog, repeat to end. (6 sts remaining.)
Round 6: k2tog, repeat to end. (3 sts remaining.)
Cut a 6" tail and sew through remaining 3 sts; finish by sewing end under.
Lay hat flat. Position ears on either side of hat so that there is about 1.5" (for Infant/Toddler) between the side of the ear and the top center of the hat (space them a little wider for Child/Teen size).
Use tails left from casting on to sew ears to hat. Finish by sewing ends under.
With black yarn, backstitch eyebrows. Begin 4 stitches above the ribbed brim and continue across for about 5 stitches. Sew ends under.