A few years ago it seemed like I saw nothing but crocheted slippers and boots with flip-flop soles. They looked cozy and practical, so I bought a few pairs of flip-flops on after-summer clearance at Michaels. And then they sat in my closet.
Meanwhile, I broke my foot and later had surgery since it wouldn't heal, so I was wearing a boot or sturdy, supportive sneakers all the time, not slippers. My foot is better now, but when I started wearing my old slippers this winter, I realized they're a lot more beat-up (well-worn, well-loved) than I remembered. Time for a new pair.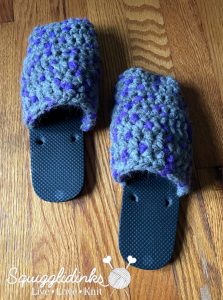 I looked for all the slipper patterns I remembered, but I couldn't find any I liked this time around. I wanted something clog style, easy to slip on and off. So I decided to make up the pattern myself. And, surprisingly, it worked. I only made one pair in one size, so I apologize to everyone who wants larger or smaller. I'm not able to make and test in every size right now. But I'll be sharing a roundup of other designers' flip-flop slipper/boot patterns in a few weeks. Anyway, here's the breakdown:
Approximate size: 8-11 (US women's sizes). I'm a size 10 but I used size 8/9 (M) flip-flops. I wish now that I'd used a larger pair, since they're a little short at the back. Use your correct size.
Hook: 8mm.
Yarn: Lion Brand Wool Ease Thick and Quick. I used the color Purple Martin (another clearance buy from my stash), and I used somewhere between 40 and 60 yards (a little more than half a skein).
Construction: Start by cutting off the piece on the flip-flops that goes over the foot and between the toes. I've seen some tutorials keep part of that piece in the sole, but mine popped right out, so there are three little holes in the soles, and that's fine with me. Crochet the top of the clog and sew it to the sole with scrap yarn (I used black worsted weight acrylic) according to the instructions below. I used an ordinary (but sharp) yarn needle to sew the top to the sole, stitching at an angle so I only caught the top corner of the sole in the seam. Make and Do Crew has some great tutorials for how to punch holes through flip-flop soles, so check those out. She uses an awl and then crochets directly to the sole, instead of sewing it on with a needle and yarn the way I did, but she does a good job showing the size/angle of where the holes should go.
The beginning edge of the crochet top is the front of the toe. Stitches are worked back and forth across the top of the foot, increasing throughout, and the final row is the opening where your foot slips in.
Rows 1 and 2 both have you crocheting one stitch in the side of the previous row. This is to add a little bit of height to the tip of the toe so that it leaves space for your toes to be comfy.
Sizes 8 and 9 should omit Row 13 so that the top of the clog isn't too long to be comfortable.
Time/Money: I made this pair, start to finish, in less than two hours. And since I got the flip-flops and yarn on clearance, they were less than $5. Flip-flops are easy to find cheaply–I've seen them at Dollar Tree in the summer, or when all the summer stuff is on clearance elsewhere.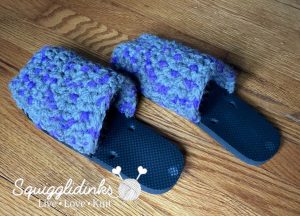 Crochet Flip Flop Slippers
Hook: L (8mm).
Yarn used: Lion Brand Wool Ease Thick and Quick (Super Bulky (6); 80% acrylic, 20% wool; 87 yards/140 grams), 1 skein Purple Martin.
Yardage: 40-60 yards.
Gauge: 9 sts of HDC in 4 inches.
Other Notions: flip flops (M/8/9 or L/10/11); sharp yarn needle; about 2 yards of worsted weight acrylic yarn to match sole.
Final Measurements: Fits US women's shoe sizes 8-11.
Stitch Abbreviations:
CH = chain
SC = single crochet
HDC = half double crochet
Pattern:
Slipper top, make 2:
CH 10.
Row 1: Skipping first chain, SC in rest of chain (9 sts). SC1 in side of row 1, Ch1, turn.
Row 2: SC10, SC1 in side of row 1, CH1, turn (11 sts).
Row 3: SC11, CH1, turn.
Row 4: SC5, SC2 in next st, SC5, CH1, turn (12 sts).
Row 5: SC12, CH1, turn.
Row 6: SC5, SC2 in next st, SC6, CH1, turn (13 sts).
Row 7: SC13, CH1, turn.
Row 8: SC6, SC2 in next st, SC6, CH2, turn (14 sts).
Row 9: HDC14, CH2, turn.
Row 10: HDC6, HDC2 in next st, HDC7, CH2, turn (15 sts).
Row 11: HDC15, CH2, turn.
Row 12: HDC15, CH2, turn.
Row 13 (Sizes 10 and 11): HDC15, CH2, turn.
Row 14: SC15.
Cut 6 inch yarn tail, thread through final stitch. Sew all ends under.
Find the center of the toe edge of the crocheted slipper top. Center this at the front of the flip-flop. Using worsted weight scrap yarn and yarn needle, whip stitch top to sole, putting needle in about 1/4 inch (5mm) into the top of the sole and coming out at an angle halfway down the side of the sole. Sew ends under. Repeat with second slipper.