I'm at a loss for words as I write this. I'm so full of emotion (excitement, enthusiasm, relief, pride) about this pattern that I just don't know where to start. So I'll start at the end, or maybe somewhere in the middle, and work my way around.
Midnight Wishes is a crescent shawl made with one skein of sock weight yarn. It features sections of stockinette stitch and sections of lace, plus a picot edging.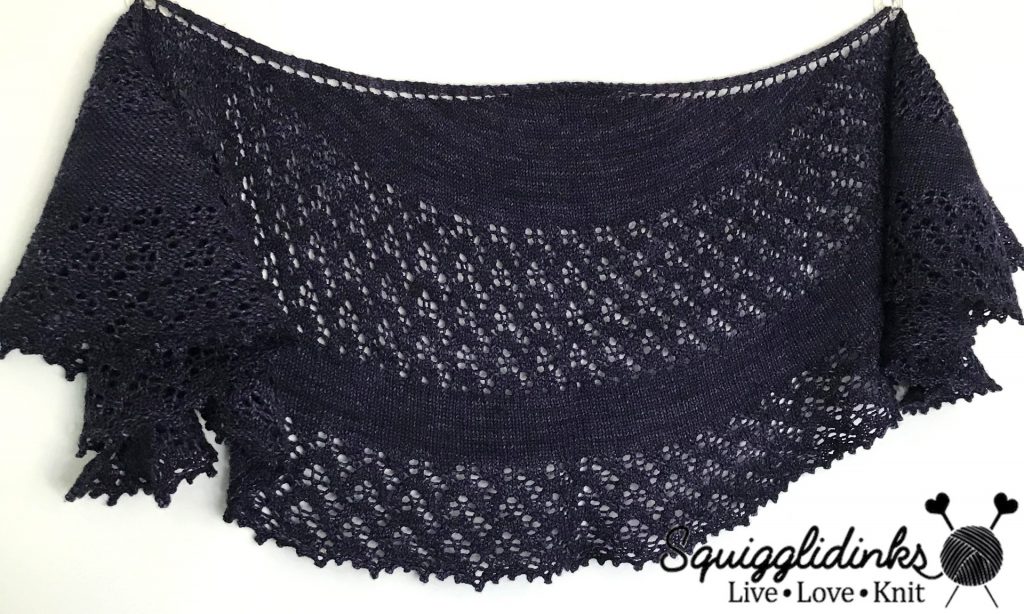 It's my first pattern for sale (you can buy it on Ravelry), and I'm really proud of it. I've been sharing free patterns for about four years now, and I will continue to share free patterns. (All the patterns already here on Squigglidinks will remain free.) But over the past year or two, I've begun to gain confidence in my designing and pattern writing. I'd like to be paid for the work I put into designing, and I think that some of my patterns are worth paying for. So here goes.
Midnight Wishes is my first crescent shawl. I love the crescent shape, and how it curves with your neck and shoulders to wrap you up without bunching. To learn about crescents and other shawl shapes, I followed Aroha Knits' 5 Shawls, 5 Days Challenge. It helped me to understand the shawls' construction and build my confidence before designing my own.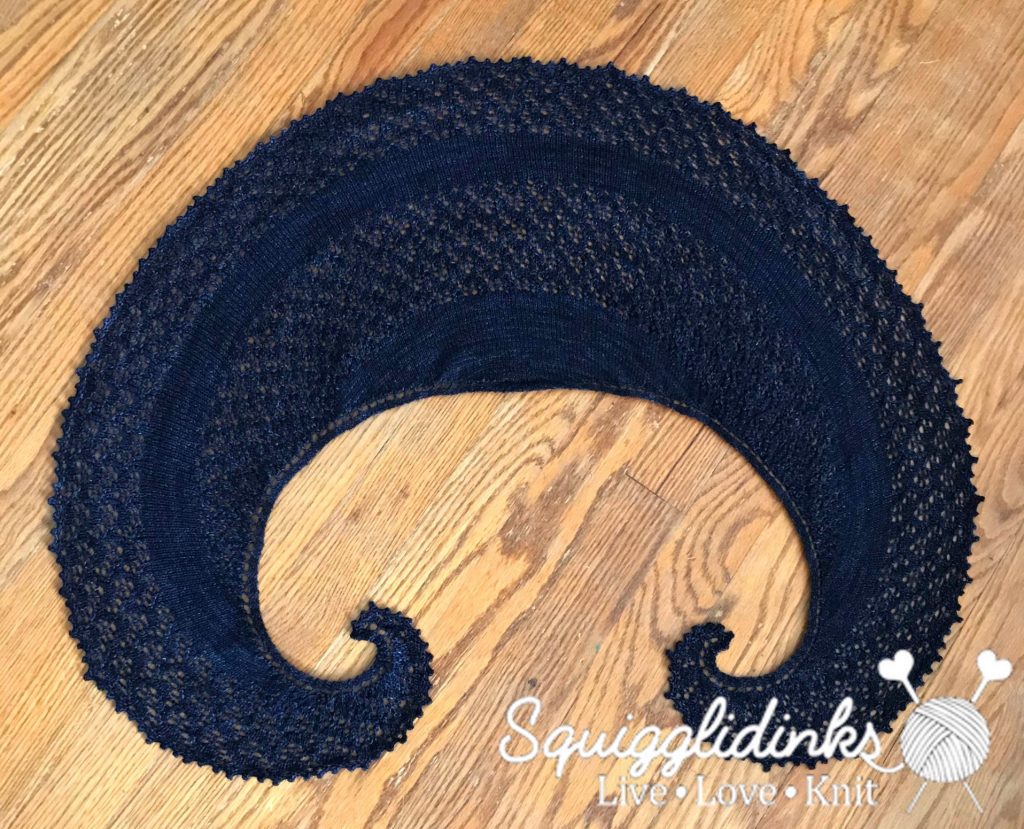 Once I decided to make a crescent shawl, I decided to do something else I've been dying to do for a long time: buy expensive yarn. You'll notice if you go back through my patterns and blog posts that I usually use inexpensive yarn from Michaels or JoAnn. It's decent yarn that's readily available (I practically live next door to a Michaels, and JoAnn is only five minutes away), and I've always been satisfied with the quality and softness. But sometimes I can't help craving 100% merino wool. So in December I bought a skein of Malabrigo Yarn Sock from LoveCrafts (thanks to LoveCrafts for giving me a discount code to share with my mailing list—if you want to get in on goodies that I only pass on to my email list, sign up here).
Now, I'm not the only one who rarely (or never) buys the high-end yarn, right? I would love to support indie dyers all the time, but I don't have that big a yarn budget. If I buy the cheaper yarn, I can make a baby blanket for $10-$20; if I buy the indie yarn, it's looking closer to $50-$75. That's why I chose to make Midnight Wishes with only one skein of fingering weight yarn. If you're buying yarn for the project, one skein of indie yarn is still fairly affordable. And if you already have a skein (a splurge that joined your stash because it was just too pretty to pass by), a shawl this size will feature that one gorgeous skein without demanding you buy more.
Can I also say that I love the look of small shawls when they're worn like scarves? It feels a little more sophisticated than wrapping yourself in a glorified blanket (I do actually love large shawls and many are nothing like blankets), and it looks more interesting and elegant than wearing a typical scarf. (Much as I love lace scarves, like my Eva Scarf, the shape is very blandly rectangular.)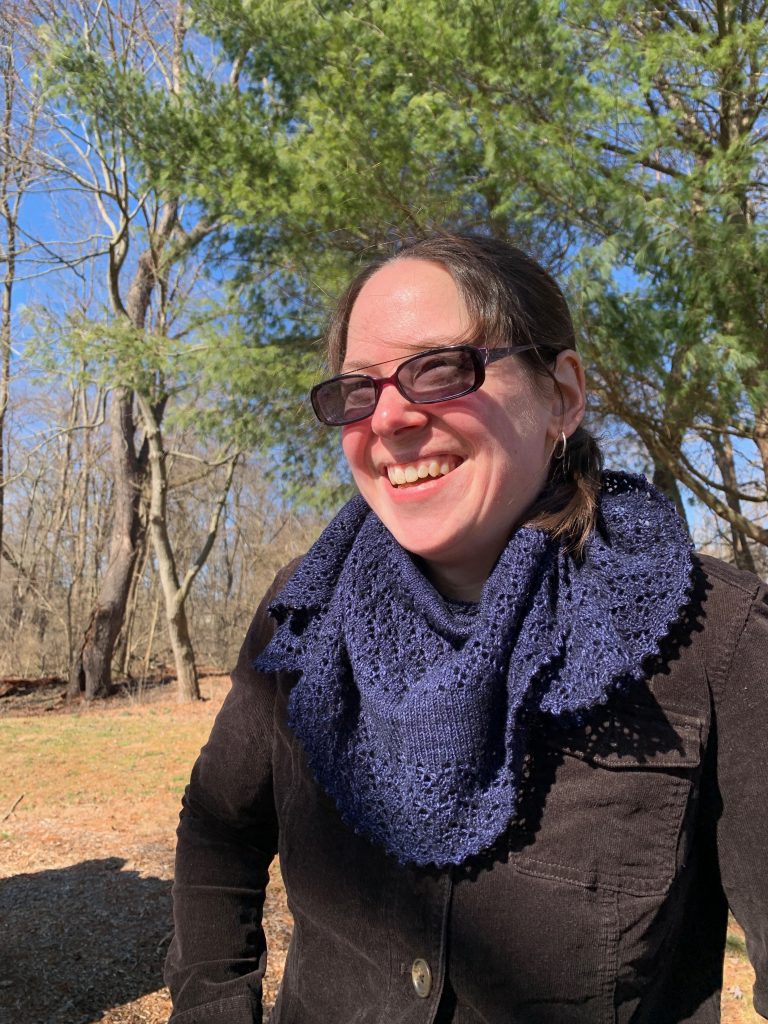 All that to explain why I made a one-skein crescent shawl. A few notes on the details: the lace is actually one I designed for a sweater that I was making a couple of years ago. I worked on it two summers in a row, only to decide that I would never actually wear it. I frogged the whole thing. (The yarn is currently building a new work-in-progress, and I'm much happier with it.) But I love the lace pattern, and I wanted to give it its time to shine. As for the picot edging, there's just too much outer curve to a crescent to have a plain edge. Right? It needed a little extra love.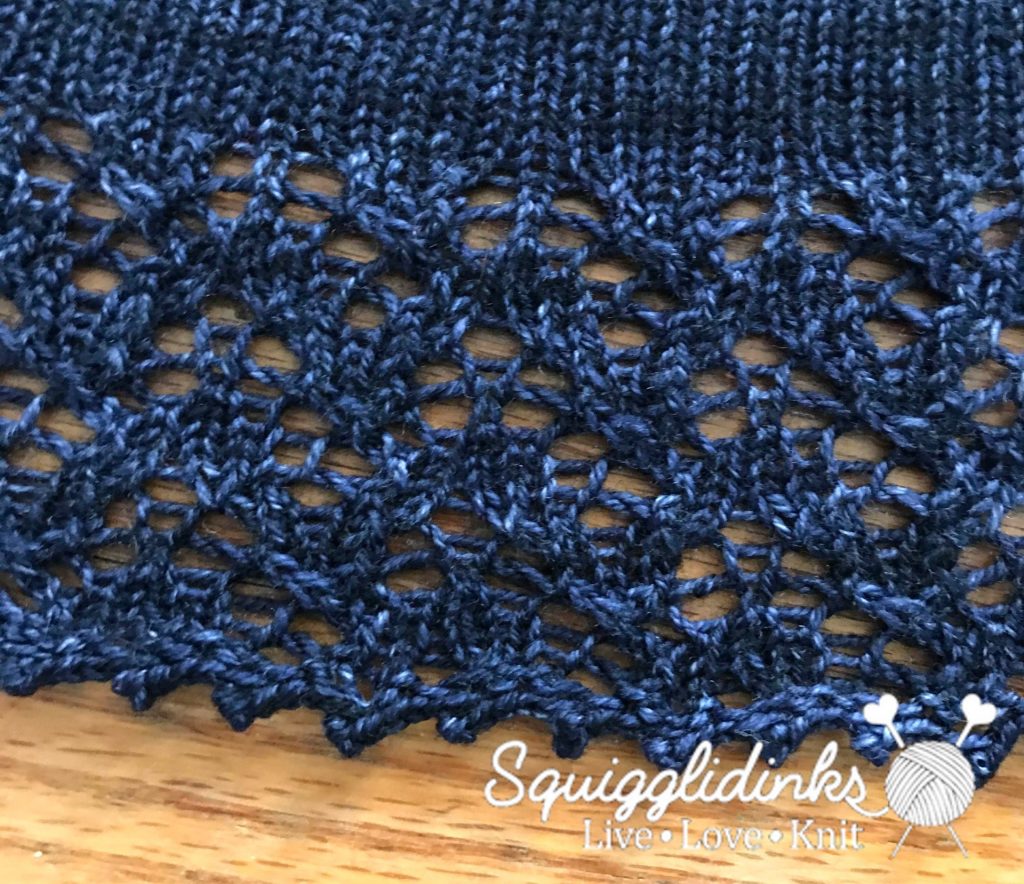 And now an even smaller detail: Yardage. The pattern calls for 400-500 yards of fingering weight yarn. I used about 400 (maybe a little less) for my original. I had a few testers come in at about the same amount. Other testers were pushing closer to 500 yards and didn't have enough to finish the full shawl with one skein. If you tend to knit looser or would like a larger shawl (I did include instructions for expanding it), you might want to get a second skein.
I hope you love Midnight Wishes as much as I do!