It's a short-running tradition in our house (by which I mean this is my third-ish year doing it) of my boys getting hand-knit hats for Christmas. Sometimes I try to get opinions from the boys, and sometimes I just make them the hat I think they'll like best and keep it a surprise. This year Munchkin voted for a T. Rex hat, and I'm keeping Little Bear's Star Wars hat a secret. Last year, Munchkin's was a surprise (he got Winnie the Pooh), and Little Bear got to choose. Little Bear chose a Santa hat, and this is the pattern I'm sharing today.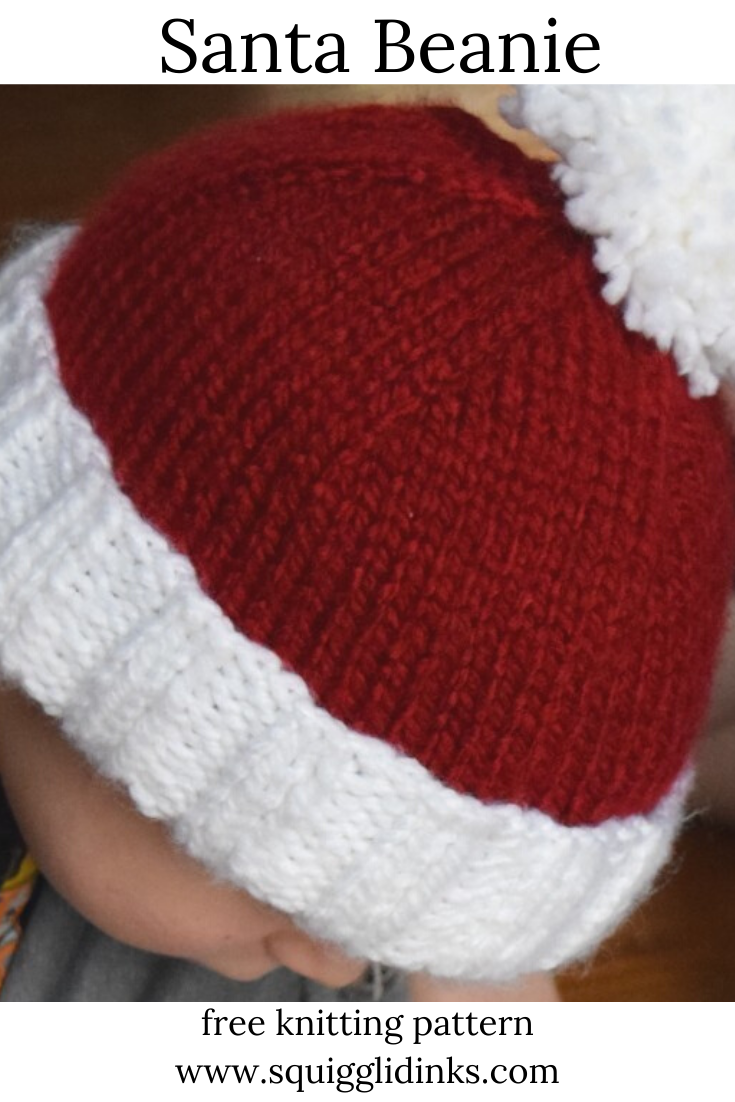 It's a quick knit, using Loops and Threads Charisma in red and white. (It's a good thing it's quick—I had too many Christmas gifts to knit last year, and I finished sewing on the pom at about 1:30am Christmas morning!) I have sizes for infants, toddlers, and children/teens. So if you have any littles with holiday spirit and you need a quick, handmade gift, this is the (warm and cozy) hat you need!
I knit the hat on straight needles and sewed it up at the end, since I had straight needles in the right size but not circular. If you're interested in a circular version, let me know in the comments!
In the photos, Little Bear is 4 1/2 years old, and he wears the hat with the brim folded up, as I designed it. This winter he prefers to wear it with the brim down so it's a little longer/slouchier.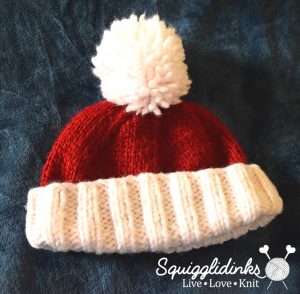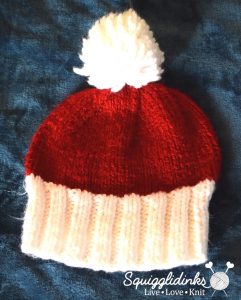 Santa Beanie
Pattern notes: This hat is knit flat on straight needles then sewn up at the end. It is designed so that the bottom brim (white) folds up, but it can also be worn down so that the hat is more slouchy.
Needle: US size 10.5 (6.5 mm), straight needles.
Yarns used: Loops and Threads Charisma (Bulky (5); 100% acrylic; 109 yards/100 grams), 1 skein of White and 1 skein of Red.
Yardage: 109 yards.
Gauge: 13 stitches and 18.5 rows = 4 inches.
Other Notions: yarn needle for finishing.
Final Measurements: Pattern is written for Infant (16"), Toddler (18.5"), and Child/Teen (20") sizes. Sizes will be written Infant (Toddler, Child/Teen) in the pattern.
Stitch Abbreviations:
k=knit
p=purl
k2tog=knit two together
p2tog=purl two together
st st=stockinette stitch: knit all odd rows and purl all even rows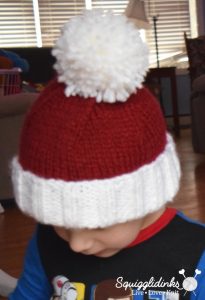 Pattern:
Using white, cast on 56 (60, 68) stitches.
Row 1: k2, p2, repeat to end.
Repeat Row 1 until hat measures 3.5 inches from cast on edge.
Switch to red yarn.
Infant and Child/Teen, next row (Toddler size, omit this row): k2tog, k26 (32), repeat to end.
Continue in st st (in red) until hat measures 6 (6.5, 6.5) inches from cast on edge.
Decreases:
Row 1: k7 (8, 9), k2tog, repeat to end.
Row 2: purl.
Row 3: k6 (7, 8), k2tog, repeat to end.
Row 4: purl.
Row 5: k5 (6, 7), k2tog, repeat to end.
Row 6: purl.
Infant size, omit next two rows:
Row 7 (Toddler and Child/Teen ONLY): k(5, 6), k2tog, repeat to end.
Row 8 (Toddler and Child/Teen ONLY): purl.
Row 9 (all sizes): k4 (4, 5), k2tog, repeat to end.
Row 10: p2tog, p3 (3, 4), repeat to end.
Row 11: k2 (2, 3), k2tog, repeat to end.
Row 12: p2tog, p1 (1, 2), repeat to end.
Infant and Toddler, Row 13: k2tog, repeat to end.
Child/Teen, Row 13: k1, k2tog, repeat to end.
Child/Teen, Row 14: p2tog, repeat to end.
Cut yarn so that you have a 20" tail. Thread through the remaining 6 stitches and pull tight. Use the tail to sew up the side seam of the hat. Use white tail from cast-on (or another piece of white yarn) to sew up the white ribbing. Finish by sewing all ends under.
Make a pom pom with white yarn. (I made mine by wrapping 70 times around a 3-4" piece of cardboard.) Attach to the top of the hat.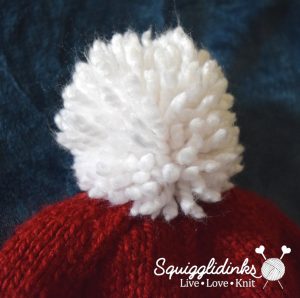 What are your favorite holiday knitting traditions? Share in the comments!