There's an Instagram hashtag, #wipwednesday, that I've always liked. It's fun for me to see what people have on their needles, no matter how unfinished. So I decided to do a post on my own WIPs, just for fun.
I currently have four projects on needles. I usually try to keep to two, but I occasionally make excuses for more. (Baby blankets are always excusable, and I'm about to start winter hats for my boys for Christmas.)
I'll start with the projects I've temporarily set aside:
First, a sleeveless top that I started a couple of years ago. I made some good progress on it this spring/early summer before baby blankets took over. It's made with Lion Brand 24/7 Cotton in Purple, which is really nice to work with. It's kind of heavy, though, so I'm afraid the finished top is going to weigh a ton. I got to the underarm decreases on the front and had to set it aside (young kids on vacation and car knitting are both terrible for counting bound-off stitches), so I started the back panel and made some progress on that.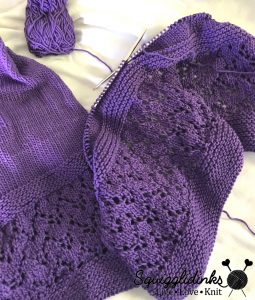 Second, a top-down raglan cardigan. I started it in January, once I finished all my Christmas knitting and was able to work on a "selfish" project. I haven't gotten as much time to work on it as I'd like, but I love how straightforward it is. The yarn—Lion Brand Heartland in Mt. Rainier—is so soft and easy to work with. I used Ann Budd's Knitter's Handy Book of Top Down Sweaters to figure out the math and basic shape, since I've never designed a sweater before. (I'm not sure if I'll be sharing this pattern or not—I'll share more photos as I make progress and you can tell me whether you want to see a pattern for it.)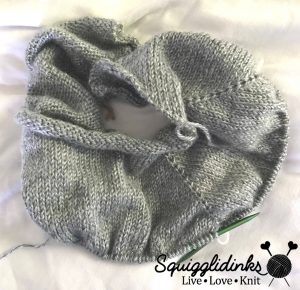 And now the baby blanket. I was going to use the slipped rib stitch that I tested in the last charity block, but while I like the stitch for small things, I didn't have the patience to knit a whole baby blanket with it. While I was trying to figure out a redesign, I remembered a blanket that a friend of mine made for her friends' wedding. The friends in question enjoyed board games, so she crocheted a hexagon blanket that looked like a Settlers of Catan board. The soon-to-be parents I'm making the blanket for are also huge game fans, so a Catan board was perfect. I'm using Loops and Threads Impeccable (it's an inexpensive worsted yarn that's surprisingly soft, and it's easy-care, machine-wash-and-dryable acrylic), in the colors Fern, Forest, Soft Taupe, True Grey, Aran, and Claret.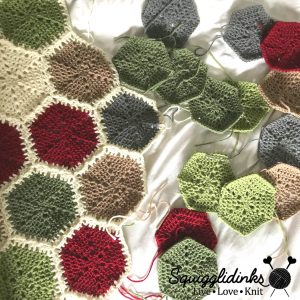 The fourth WIP is still (or again) in the swatching stage. I started attempting this design back in December, just after Christmas (and just before starting the gray sweater). If you've ever seen the movie of Harry Potter and the Prisoner of Azkaban, this is the hat that Hermione wears in Hogsmeade when Harry has an invisible snowball fight with Draco. It's really hard to reverse engineer a hat when your only photos of the original are tiny screenshots, so the attempt I made last spring didn't come out right. But I learned from it and made changes (major changes to the cables, plus switching from worsted weight to DK), and now I'm swatching again. It'll probably take another year before I have the pattern finished, but I'm excited to be working on it again.
So those are my four WIPs, all on needles or hooks, in varying states of completion. You should be seeing patterns for the baby blanket (and another baby blanket that also jumped the line but was finished a few weeks ago) within the next few months!