This is my second finished gift hat, and I totally love it. I saw a similar stitch pattern on a washcloth on Pinterest, and I just had to use it. Theirs used slip stitches, but I kept mine to basic knit and purl. It's really simple, but it's so cozy and textured. It has a lot of personality without being complicated. Give it a try!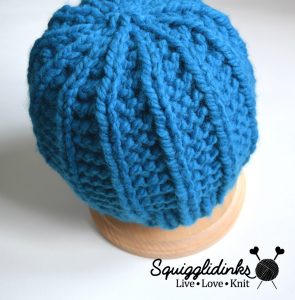 This pattern is also available as an inexpensive printable, large print, ad-free PDF via Ravelry.
In Excelsis Deo Hat
Needles: size 13 (9mm), 16" and set of 4 double pointed needles for decreases at top of hat.
Yarns used: Big Twist Natural Blend (super bulky (6); 80% acrylic, 20% wool; 98 yards/142 grams), 1 skein of Natural Blend Denim.
(You could also use Lion Brand Wool-Ease Thick & Quick.)
Yardage: 98 yards
Gauge: 2.3 stitches per inch; 3.5 rows per inch.
Other Notions: one stitch marker.
Final Measurements: Child/Teen: 21" (Adult: 22.5"; Lg. Adult: 24"). All sizes will be written Child/Teen (Adult, Lg. Adult) in the pattern.
Stitch Abbreviations:
k – knit
p – purl
k2tog – knit two together
Pattern:
Cast on 48 (52, 56) sts. Join into a round, making sure not to twist your stitches. Place marker to mark the beginning of the round.
Rounds 1-4: p1, k1, repeat to end.
Round 5: knit.
Round 6: p3, k1, repeat to end.
Repeat rounds 5 and 6 until hat measures 5.5 (6.25, 7.25) inches or 14 (16, 18.5) cm from cast on edge.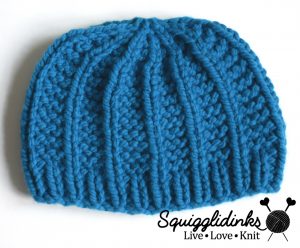 Decreasing:
Switch to dpn whenever your stitches get too tight on your circular needles, usually around round 9 or 10.
Round 7: k2, k2tog, repeat to end.
Round 8: p2, k1, repeat to end.
Round 9: k1, k2tog, repeat to end.
Round 10: p1, k1, repeat to end.
Round 11: k2tog, repeat to end.
For Child/Teen and Lg. Adult sizes, Round 12: k2tog, repeat to end.
For Adult size, Round 12: k2tog, repeat to last st, k1.
Cut yarn 6-8 inches from last stitch. Thread the tail through the remaining stitches. Pull tight. Sew ends under.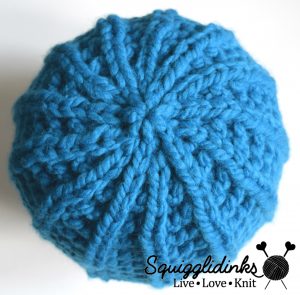 To make a matching scarf:
A scarf will require about 2 more skeins of the same yarn. Use the same needles, but you'll knit it flat as if you were using straight needles.
Cast on 15 stitches.
Row 1: knit.
Row 2: k3, p1, repeat to last 3 sts, k3.
Repeat these two rows until scarf is desired length.
Bind off.