It's Easter time!
I know that not everyone celebrates this holiday (and if that's you, feel free to skip this post). For me the most important thing by far is remembering Jesus rising from the dead to clear our sins. But it's also fun to celebrate spring with bunnies and candy-filled eggs and chocolate, so here's a roundup of all that fun stuff. I know there's not enough time before Easter to make some of these projects, but some could be gifts for any time, and others are small and easy. And they're all so cute!
Amigurumi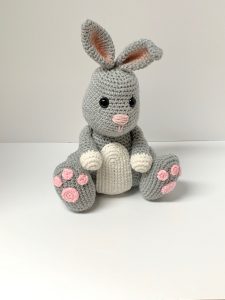 What's more fun to find in your Easter basket than a little stuffed toy? (Chocolate, but we'll get to that later!) For crocheters, I have this Crochet Bunny Pattern by Brittany Ford, which is a bigger project, but how cute?! And this little Chicken by Fionadolls, which is small and quick and perfect for whipping up before the weekend. (Fionadolls also has a cute bunny and carrot pattern.) Another small, quick project is this cute little bunny pattern.
For knitters, check out this Ducky Easter Egg Soft Toy by Knitting by Post. And how cute is this Peter-Rabbit-inspired Little Rabbit Creme Egg Cover by Needles and Pins? And if you want quick and simple, take a look at StudioKnit's How to Knit a Bunny from a Square. It's really just a garter stitch square sewed and stuffed into bunny shape!
Garland
If you're into cute decorations, try out this Crochet Easter Bunny Garland by The Knotted Nest, or this Easter Egg Bunting by Agrarian Artisan. This Hoppity Hop bunny by DROPS Design is supposed to be an applique to sew onto other projects (what other amazing things could you make for Easter???), but you could also string it up as a garland.
Footwear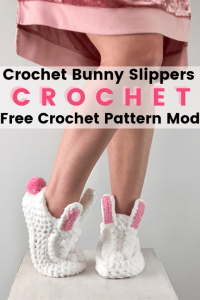 Anyone a fan of Easter footwear or themed socks? Check out these Crochet Bunny Slippers by A Crafty Concept! And my own personal favorite bunny knitting pattern, Bunny Got Back Socks by Amy Gunderson.
Other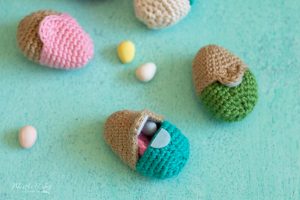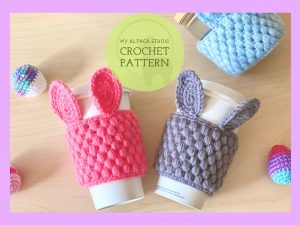 I said we'd get back to chocolate, right? Why not put it into these Fillable Crochet Easter Eggs by Whistle and Ivy? Or into this Bunny Gift Bag by Little Crochet Makes? And how about a Bunny Coffee Cozy by My Alpaca Studio? So much bunny fun!
Roundups
Can't get enough patterns? Check out these other Easter roundups:
10 Free Easter Knitting Patterns by NobleKnits