I'm so excited to share my interview with Emily of Tin Can Knits. She and Alexa create beautiful but accessible garments, and I can't say enough good things about their blog–I've found so much useful information there!
1. When/how did you learn to knit?
My aunt and mum taught me the basics, but I dove deep into knitting when I was working on my Masters of Architecture degree, and needed a new hobby for procrastination purposes!
2. How did you get into designing?
After I finished university, I continued learning more skills, and I found myself more interested in making things up than in following other people's patterns. I used many free 'basic' patterns as a basis, adding patterns from stitch dictionaries to these, and then eventually simply designing using gauge and finished measurements. The first designs that I published, back in 2009 were triangular lace shawls.
3. What about the craft do you find most rewarding?
I love the endless possibilities, but yet the very accessible simplicity of knitting. There isn't much you need to begin, but there is so much that you can make, and so many techniques to explore, and the magic happens a single stitch at a time!
4. Are there any aspects of yarn-crafting that you avoid?
There are some parts of knitting projects I enjoy less than others; for example the fiddly bits like joining sleeves and body before working a yoke. But they cannot be helped, so I try to take those parts of the project to knit-night and do them when I'm chatting to friends, which helps me to avoid putting them off!
5. Is there one knitting/designing tip someone has given you that has stuck with you?
Early on a knitter at a shop in Vancouver where I worked told me to not be afraid to rip lace. She took a big lace shawl she was working on, there must have been 300+ sts on the needle, and pulled the needle right out, and then ripped a couple rows. Then she showed me how to put it back on the needles, one stitch at a time, by working from left to right, with the right side of the work showing (laid flat on a table). I learned how to do this, discovered that it was really no big deal, the lace wouldn't melt if it wasn't on the needles! So now I have zero fear of pulling out the needles!
6. What skill would you still like to learn? (This could be about yarn-crafting, but it doesn't necessarily have to be.)
There are MANY skills I would like to learn! I'd qualify myself as a bit of a learning junkie! I'm currently doing writing practice, taking piano lessons, improving my Spanish speaking skills and teaching my children, and ALWAYS practicing and learning and exploring new skills related to combining colours, and garment construction for knitting. The best thing in life is learning new skills!
7. What/who is your greatest source of inspiration?
I am very inspired by prolific artists, and especially women. There's a level of expertise that cannot be bought except through hours and hours and hours of practice in your chosen field, and it really shows in the work that these women produce as their careers progress, and their skills grow. A few examples of artists like this who I love to watch are Sonya Philip, Norah Gaughan, Lisa Congdon, and Rosemary Hill. They have gotten to where they are through years and years of investment of time and attention to their craft, and it's inspiring to watch.
8. If you could have a yarn superpower, what would it be? (Sewing in ends with the snap of your fingers, all your math always works out perfectly…you name it!)
I've been learning how to use a knitting machine for the past 18 months, and that's helped my ability to FINISH things. The stockinette sections of garments are boring to me, I generally just want to get to the 'interesting' bit, so gaining more skills in machine knitting might help me focus my attention on the parts of a knitting project that I love best.
Thank you, Emily! Check out a few of the gorgeous designs from Tin Can Knits: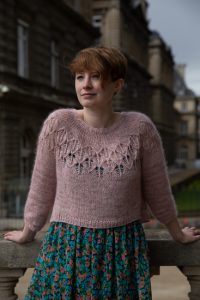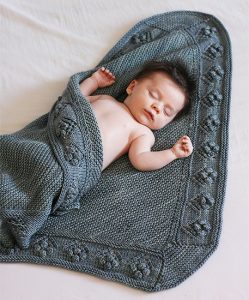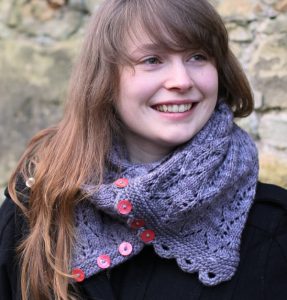 Disclaimer: Some patterns from designers I feature will be free, others will be paid. I am not affiliated with them nor do I make any commission if you purchase a pattern. My goal is simply to help you find your best next pattern while supporting other designers in this maker community.