After learning (and falling in love with) Tunisian simple stitch, I decided to try one of TL Yarn Crafts' other video tutorials to learn a new stitch pattern. I followed the fourth video to learn the double seed stitch (the video is actually for making a coaster, but I adjusted the number of stitches, and they're all just rectangles anyway). The double seed stitch actually consists of learning two Tunisian crochet stitches: the Tunisian knit stitch and the Tunisian purl stitch. They're both really easy, once you get the hang of them, although the purl stitch took some practice before it stopped being a really awkward motion.
I really like the texture of this stitch pattern, and it does look a surprising amount like the knit moss stitch. But I don't like it as much as the simple stitch, either in appearance or in the feel of working it. That's just personal preference, though. Give it a try and tell me what you think!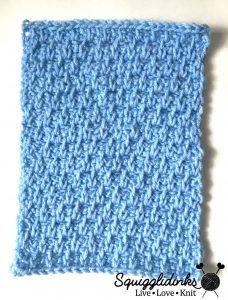 What you'll need:
Tunisian crochet hook, size L/11, 8mm.
Worsted weight acrylic yarn (not too slippery—I think for this block I used Red Heart Super Saver. All of my charity block yarn comes from small, unlabeled balls from my stash, so I'm guessing.)
Gauge: 13.5 stitches in 4 inches
Find the TL Yarn Crafts video tutorial HERE (It's video number 4.)
How to do it:
Follow everything that Toni shows in the video, except that you'll want to chain 24 stitches to start instead of the 16 she tells you. Continue the stitch pattern until the block measures 9 inches from the beginning edge. Finish as shown in the video.