I love colorwork, but it's really hard to knit with small children. I get about three stitches in before one of them sits on me and whatever I'm knitting. (I had to knit my brioche projects after they were in bed.)
Enter mosaic knitting, which is a fun and easy method of colorwork and my current favorite.
Here are some key features of mosaic knitting, if you're unfamiliar with it. (I was, too, until I stumbled across it in Vogue Knitting: the Ultimate Knitting Book.)
It's knit in two-row stripes.
Patterns are formed by slipped stitches carried up from the color below.
Each row of chart is read twice–right to left for right side rows and left to right for wrong side rows. (So you'll knit across the right side, slipping the stitches it tells you to slip, then on the wrong side, you'll purl across, following the same chart row in the opposite direction, slipping the same stitches.)
Mosaic can be done in stockinette stitch or garter stitch, so the wrong side rows can either be knit or purled. (In this pattern I purled the wrong side rows, but you're welcome to try knitting them and see how it looks!)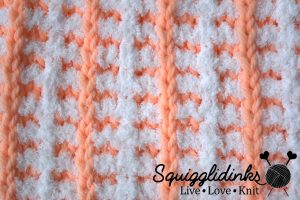 I decided to try this charity block with two different textures of yarn. I don't usually like peach or fuzzy, but I somehow ended up loving the combo. You can try it with plain worsted weight acrylic or with a fuzzy worsted acrylic—it's fun either way.
You can follow either the chart or the written instructions. If you follow the chart, remember to follow it from right to left for the odd rows (the rows are only numbered with odd numbers), then follow the same row of chart from left to right for the even rows.
What you'll need:
US Size 8 (5mm) needles
Worsted weight acrylic yarn in 2 colors, A (I used fuzzy white) and B (I used peach).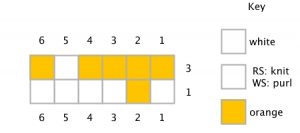 With color B (peach), cast on 30 stitches.
Still with color B, knit 1 row, then purl 1 row.
With color A (white), row 1: (k1, sl1, k4), repeat to end.
With color A, row 2: sl1, p3, sl1, p1, *p4, sl1, p1, repeat from * to end.
With color B (peach), row 3: (k4, sl1, k1), repeat to end.
With color B, row 4: sl 2, p4, *p1, sl1, p4, repeat from * to end.
Repeat these 4 rows until block measures 9 inches. Last two rows should be 1 row knit, 1 row purl, with no slipped stitches, just like the first two rows. Bind off.