I have not gotten on the messy bun beanie bandwagon, in part because I mostly put my hat on just to take the dog out. I just throw my hat on over my ponytail, go outside, then come back in and take it off. But sometimes that just doesn't work for me. So I decided it was time to try something else.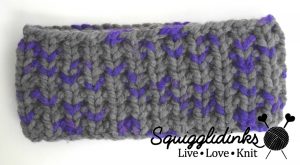 A headband is enough to keep my ears warm while still giving my ponytail plenty of room, and it's not as much of a pain to get it through the opening as a messy bun hat. The top of my head gets cold, but if I'm not out for long, it doesn't matter much. (I used to wear headbands years and years ago before switching to primarily hats. We'll see if what used to work will work again.)
This is a super simple pattern, just knit and purl on circular needles. If you have any yarn left over from knitting one of the quick and easy hats, this uses the same needles and yarn.
Winter Headband
Needles: size 13 (9mm), 16".
Yarns used: Lion Brand Wool-Ease Thick & Quick (super bulky (6); 80% acrylic, 20% wool; 87 yards/140 grams), 1 skein of Purple Martin.
Yardage: 50 yards
Gauge: 2.3 stitches per inch; 3.5 rows per inch.
Other Notions: one stitch marker.
Final Measurements: Child/Teen: 20" (Adult: 22"; Lg. Adult: 24"). All sizes will be written Child/Teen (Adult, Lg. Adult) in the pattern.
Stitch Abbreviations:
k – knit
p – purl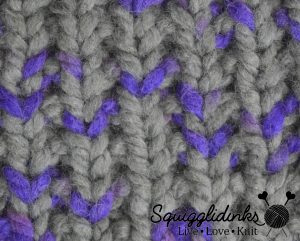 Pattern:
Cast on 46 (50, 56) sts. Join into a circle, being careful not to twist your stitches.
Round 1: k1, p1, repeat to end.
Round 2: knit.
Repeat these 2 rounds 6 more times.
Bind off on a Round 1. Finish by sewing ends under.
Which do you prefer? Hats, headbands, or something else entirely? Tell me in the comments!