Let's start by saying: this was supposed to be an ordinary granny square. Just one great big granny, worked from the middle outward. I had half-skeins of blue and white, remnants of other projects, so I planned to do blue and white stripes surrounded by a third color. (Originally the third color was going to be plum because I intended the blanket to be for me, but then Munchkin reached a point of taking off all of his blanket sleepers the moment he got into his crib. Given that he's old enough for blankets, the blanket became his and became more urgently necessary, and the third color was no longer plum.)
But I wasn't far into my second blue section (round 8 or 9 altogether—I was doing stripes that were 3 rounds of each color) when the edge of the square started to look wonky. I had been having trouble with the tension, and rather than fight it, I frogged.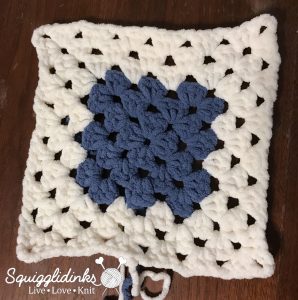 I decided instead to do granny rows like Make & Do Crew's much more visually appealing Modern Crochet Granny Stitch Blanket, starting with blue since that's the color I was currently working with. I also increased my hook size from L (8mm) to N (10mm) to fix my tension problem. It definitely helped. But I was done with trying to figure out stripes or patterns. I just wanted to get this blanket finished so that I could stop worrying about my little guy being cold at night. Between that and being sick of frogging (I really did rip out the beginning of this blanket 3-4 times), I just started at the beginning edge with blue, attached white when I needed another skein, and then bought a color that would go with both when I needed more.
It was somewhere in the middle that I nicknamed it the WYSIWYG blanket, or what-you-see-is-what-you-get.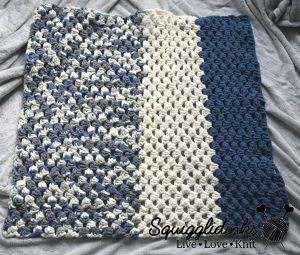 It's not fancy or well-designed. I would be prepared to say it's not really "designed" at all. But it's soft. And it's warm. I didn't love crocheting with Bernat Blanket yarn—I'm hit or miss when it comes to knitting with fuzzy yarn, and crocheting with it is worse for me. (Other people love it, but I still prefer a stretchier yarn that slides better over my hook and through the loops.) But it worked up quickly, and the result is worth it. Munchkin loves his blanket, and most nights he willingly lets me put it on him, even if it only stays on for about five minutes. It ended up being 32×36 inches, which is about the right size for Munchkin now. As he grows, I may consider adding another skein to it for length, but for now it's serving its purpose.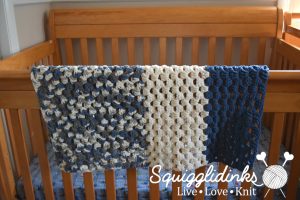 Hook: US size N (10mm)
Yarns used: Bernat Blanket (super bulky (6); 100% polyester; 220 yards/300 grams), ½ skein of Country Blue, ½ skein of Vintage White, 1 skein of Countryside
Yardage: about 440 yards
Final Measurements: 32" wide x 36" long
Have you ever made a project like this that wasn't the prettiest but served its purpose and was well loved? Tell me about it in the comments!