Cross my heart, I started my Easy Color Block Brioche Scarf with the intention of donating it to charity when I was done. I wasn't as enamored with brioche as so many people—it was never on my knitting bucket list. In truth, I learned because of my readers. I put out a survey in July 2017, and when brioche came back as what people wanted to learn most, I decided to learn it first so I could help others along.
Then I tried it. And, oh my gosh, is it squishy. I was only a few inches into the scarf before I gave up any idea of giving it away. I couldn't wait for winter to start wearing it. And, naturally, I needed a hat to match.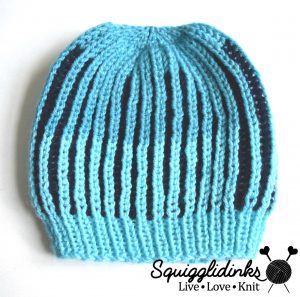 Lavanya Patricella is the queen of brioche, and her designs are stunning. A lot of them are beginner friendly, too, including her Beginners Brioche Hat. I got the pattern for free when she was giving it away for a day to her Instagram followers, but you can find it for sale on Ravelry. (And I'm not an affiliate; I don't get paid if you purchase. I'm just sharing a pattern I tried so you can try it, too, if you like.) It's really easy to follow, even if you're brand new to brioche, and a lot of fun to knit.
Her pattern uses Malabrigo Yarns Rasta, a bulky weight yarn. I wanted to use the same worsted weight yarns that I used for my scarf: Loops and Threads Impeccable (Navy) and Caron Cakes (Faerie Cake). So I adapted the pattern to use worsted weight yarn. I'm sharing the adaptations here, not the actual pattern, in case anyone else wants to make a worsted weight version as well.
I really enjoyed knitting this hat, but in the end, I don't like the way it looks on me. The brim is much tighter/narrower than the body of the hat, so it puffs out a little when worn as a beanie. It might not do that so much with bulky yarn, but I don't know. I wonder if it would look better as a slouch hat, but I look ridiculous in those, so that doesn't help me.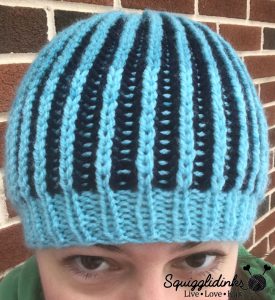 Needles: US size 8 (5mm), 16" circular.
Yarns used: Caron Cakes Yarn (medium worsted (4); 80% acrylic, 20% wool; 383 yards/200 grams), 1 skein in Faerie Cake, and Loops and Threads Impeccable Yarn (medium (4); 100% acrylic; 285 yards/127.5 grams), 1 skein in Navy.
Yardage: I used part of the remainder of the skein of Caron Cakes that I had used for the Easy Color Block Brioche Scarf, so I'm not sure how much I actually used. It didn't take much of the skein. If you have a 150 yards of each color, you should be good.
Gauge: 3 stitches per inch.
Other notions: one stitch marker to mark the beginning of the round.
Finished measurements: Adult (22") or smaller. Brioche has such a nice stretch and squish that even though the hat is written in one size, it would fit a child/teen just as comfortably as an adult.
Pattern alterations:
Cast on 66 stitches.
Repeat rounds 10 & 11 23 times total.
Repeat rounds 38 & 39 5 times total.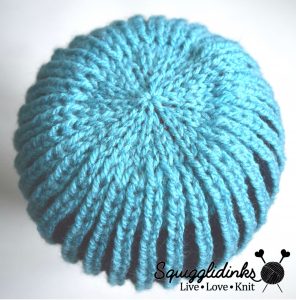 When decreasing for the top, any time there's a round that doesn't evenly k2tog all the way to the end, change the round to:
k2tog to last stitch, k1
The stitch counts at the ends of your decrease rounds should be as follows:
Round 44: 66
Round 45: 33
Round 47: 17
Round 49: 9
I learned a lot as I was making this, about brioche and brioche hats. I'll be making another hat to match my scarf before winter is over, to be sure!