Is it acceptable to admit that this hat was frustrating?
It was honestly one of my favorites to knit. I love the stitch pattern–it's waffle-ish and so easy, and it's based off of a blanket I saw on Ravelry. But trying to get decent pictures was just about impossible. I'm still not happy with them, but I finally had to take what I could get. Charcoal-colored yarn just doesn't photograph well. (You'll notice that I rarely make black or really dark projects, which is in part because I know the pictures will be horrible. It's also just because I love bright colors. But this is a gift for someone who likes dark colors, so you do what you have to, right?)
So I feel like the photos don't do it justice, and I apologize. If you could see what I see, holding the hat in front of you, you'd love it as much as I do.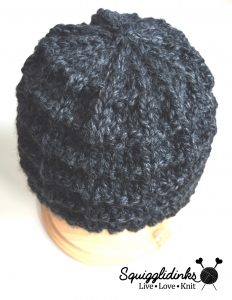 Peace on Earth Hat
Needles: size 13 (9mm), 16" and set of 4 double pointed needles for decreases at top of hat.
Yarns used: Lion Brand Wool-Ease Thick & Quick (super bulky (6); 80% acrylic, 20% wool; 106 yards/170 grams), 1 skein of Charcoal.
Yardage: 106 yards
Gauge: 2.3 stitches per inch; 3.5 rows per inch.
Other Notions: one stitch marker.
Final Measurements: Child/Teen: 21" (Adult: 22.5"; Lg. Adult: 24"). All sizes will be written Child/Teen (Adult, Lg. Adult) in the pattern.
Stitch Abbreviations:
k – knit
p – purl
k2tog – knit two together
Pattern:
Cast on 48 (52, 56) sts. Join into a round, making sure not to twist your stitches. Place marker to mark the beginning of the round.
Rounds 1-4: p1, k1, repeat to end.
Rounds 5-7: knit.
Round 8: p3, k1, repeat to end.
Repeat Rounds 5-8 3 (3, 4) more times.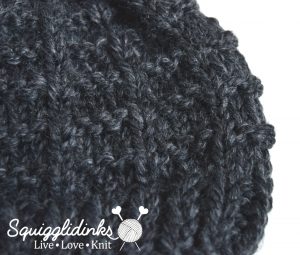 Decreasing:
(Switch to dpn whenever your stitches get too tight on your circular needles, usually around round 11 or 12.)
Round 9: k2, k2tog, repeat to end.
Round 10: knit.
Round 11: k1, k2tog, repeat to end.
Round 12: knit.
Round 13: k2tog, repeat to end.
For Child/Teen and Lg. Adult sizes, Round 14: k2tog, repeat to end.
For Adult size, Round 14: k2tog, repeat to last st, k1.
Cut yarn 6-8 inches from last stitch. Thread the tail through the remaining stitches. Pull tight. Sew ends under.
To make a matching scarf:
A scarf will require about 2 more skeins of the same yarn. Use the same needles, but you'll knit it flat as if you were using straight needles.
Cast on 15 stitches.
Row 1: knit.
Row 2: purl.
Row 3: knit.
Row 4: *k3, p1, repeat from * to last 3 stitches, k3.
Repeat these 4 rows until scarf is nearly desired length. Repeat rows 1 and 2; bind off on row 3.