This month's guest interview is with Katy from KT and the Squid. She is a crochet and knit designer, and she creates gorgeous hand-dyed yarn. Her sweater designs are some of the coziest crochet creations I've seen!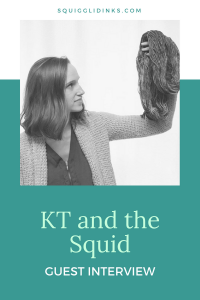 1. When/how did you learn to knit?
In high school I ended up with one of those Learn to Knit booklets so I taught myself.
2. How did you get into designing?
In 2009 I started selling finished pieces. People started asking for my patterns so I finally gave in a few years later and am so glad I did.
3. What about the craft do you find most rewarding?
I love seeing the finished piece. Especially if it's a wearable item. That moment it goes on a model or on myself feels so good!
4. Are there any aspects of yarn-crafting that you avoid?
Not really but because I design I do try to keep things fairly simple. I want to create things others can easily create as well.
5. Is there one knitting/designing tip someone has given you that has stuck with you?
I don't know if it was so much a tip, but a yarn executive at a yarn company quickly threw out some words she thought were my style. I wrote them down and keep them in mind with everything I do. I thought they were perfect and they really help me stay focused on what caught her attention.
6. What skill would you still like to learn?
I would love to master brioche one day. I know the basics but would love to learn more.
7. What/who is your greatest source of inspiration?
I do a lot of garments so I find a lot of inspiration from clothing stores/websites. I love Anthropologie.
8. If you could have a yarn superpower, what would it be? (Sewing in ends with the snap of your fingers, all your math always works out perfectly…you name it!)
I would take fast fingers so I can get more done!
Check out some of Katy's patterns: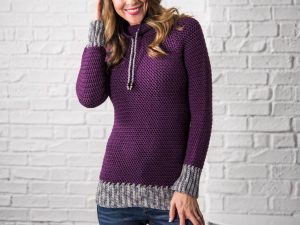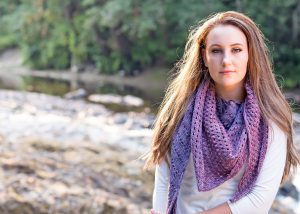 Two Stripe Beanie (FREE on blog or paid PDF)
Disclaimer: Some patterns from designers I feature will be free, others will be paid. I am not affiliated with them nor do I make any commission if you purchase a pattern. My goal is simply to help you find your best next pattern while supporting other designers in this maker community.