How early do you get started making Christmas gifts? Are you one of those super plan-ahead people like my friend, who started back in February? Or do you wait until November? August or September tend to be my ideal time—when school is starting and fall is arriving and winter's approach is inevitable, that's when it starts to feel like a good time to prepare for Christmas.
I have a bunch of people to make gifts for this year, so I'm knitting a bunch of hats, and I'll share them with you as I go. They're great hats to make no matter when you're starting to make gifts, because they're really quick knits. I'm using super bulky yarn on size 13 needles so that they're snuggly warm plus they're fast and easy to make—wins all around!
Click here if you prefer a large print, ad-free, inexpensive printable PDF of the pattern from Ravelry.
Herald Angels Hat
Needles: size 13 (9mm), 16" and set of 4 double pointed needles for decreases at top of hat.
Yarns used: Lion Brand Wool-Ease Thick & Quick (super bulky (6); 86% acrylic, 10% wool, 4% other fiber; 106 yards/170 grams), 1 skein of Wheat.
Yardage: 106 yards
Gauge: 2.3 stitches per inch; 3.5 rows per inch.
Other Notions: one stitch marker.
Final Measurements: Child/Teen: 21" (Adult: 22.5"; Lg. Adult: 24"). All sizes will be written Child/Teen (Adult, Lg. Adult) in the pattern.
Stitch Abbreviations:
k – knit
p – purl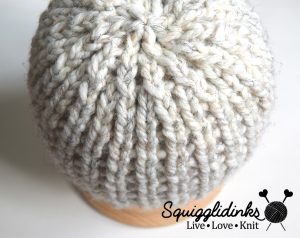 Pattern:
Cast on 48 (52, 56) sts. Join into a round, making sure not to twist your stitches. Place marker to mark the beginning of the round.
Rounds 1-4: k1, p1, repeat to end.
Round 5: knit.
Round 6: k1, p1, repeat to end.
Repeat rounds 5 and 6 until hat measures 5.5 (6.25, 7.25) inches or 14 (16, 18.5) cm from cast on edge.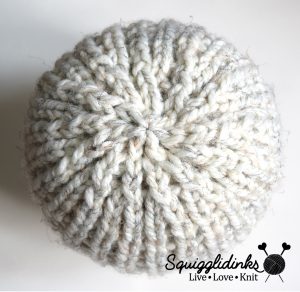 Decreasing:
(Switch to dpn whenever your stitches get too tight on your circular needles, usually around round 9 or 10.)
Round 7: ssk, k2, repeat to end.
Round 8: k2, p1, repeat to end.
Round 9: ssk, k1, repeat to end.
Round 10: k1, p1, repeat to end.
Round 11: ssk, repeat to end.
For Child/Teen and Lg. Adult sizes, Round 12: ssk, repeat to end.
For Adult size, Round 12: ssk, repeat to last st, k1.
Cut yarn 6-8 inches from last stitch. Thread the tail through the remaining stitches. Pull tight. Sew ends under.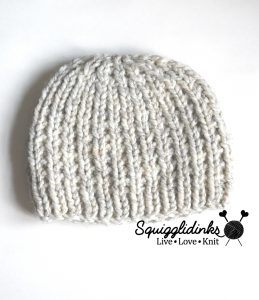 To make a matching scarf:
A scarf will require about 2 more skeins of the same yarn. Use the same needles, but you'll knit it flat as if you were using straight needles.
Cast on 15 stitches.
Row 1: k1, p1, repeat to last stitch, k1
Row 2: knit
Repeat these two rows until scarf is desired length.
End on a row 1. Bind off.