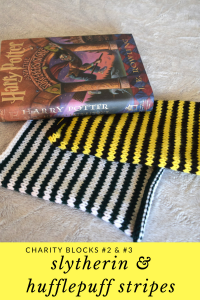 Have you ever been sorted into your Hogwarts house?
Just this week I took the official test at J.K. Rowling's site Pottermore and was sorted into Ravenclaw. (It requires you to set up a user account to access the sorting hat, but I'm enough of a Potterhead that it didn't bother me – though not enough of one to have an account already.)
This wasn't my first time being sorted – like I said, I'm a bit of a Potterhead.
(I took a couple of quizzes years ago, but they didn't seem "reliable," if that's even a factor when it comes to being sorted for an imaginary school when you're already out of school yourself.)
So as I looked at my stash of scrap yarn waiting to be made into blocks for Warm Up America!, I couldn't help noticing that I had the right pairings for a few of the houses. And once I noticed, I couldn't help making them.
I'll make Gryffindor and Ravenclaw blocks, too, of course, just as soon as I borrow some gold from my friend's scrap yarn stash (which is even more impressive than my own).
What you need:
Worsted weight acrylic yarn in 2 colors

Color A (Slytherin: green; Hufflepuff: yellow)
Color B (Slytherin: white; Hufflepuff: black)

Size 8 needles
Skills you need:
Gauge: 4.25-4.5 stitches per inch
Cast on 30 stitches with Color A.
Row 1: knit
Row 2: purl
Leave Color A attached (don't cut the yarn). Using Color B, repeat rows 1 and 2.
Leave Color A attached.
Begin knitting with Color B. Leave a long enough tail to sew under at the end. A longer tail will also help you hold the yarn snug for the first few stitches.
Leave Color B attached. Repeat rows 1 and 2 with Color A, carrying it up the side. (You'll see a line of green or yellow along that edge, but this will be hidden when the blocks are seamed together.)
At the beginning of the next row, carry Color A up the side and knit with it instead of Color B.
Repeat this pattern until the piece measures 9 inches from cast on edge. (I had 14 stripes of each color.)
Bind off.
I didn't bother blocking these two. They'll flatten out nicely when they're joined to the other blocks.
Which is your favorite Hogwarts house? Have you ever knit anything Harry Potter related? Tell me about it in the comments!